Ahhh. . .I'm living the life many of you only dream of.
No, I don't have a multi-million dollar house, or employ a full-time cleaning lady, or drive a luxury car.
That stuff is nothing compared to what I've got.
You see, I actually have the privilege of sleeping through every night without getting up to feed anyone. I get to eat my meals while they're still hot. I never have to help another person go potty. Never ever.
I'm guessing that some of you are turning green with envy right about now. I don't blame you. It's a nice place to be.
But you might be surprised that I'm a bit envious of you young mamas, too. While I'm pretty thankful I haven't heard the words, "Mommy, come wipe me," for a lot of years, I regularly wish I could step into your shoes once again.
My kids are growing up at an alarming rate, and my time of having a heavy influence over their hearts and minds is dwindling. I know I still have time to make an impact on their lives, but I also know my children are no longer as moldable as they were when they were younger. Those of you with littles are standing with opportunity at every turn, and you're blessed beyond measure with countless resources to help you.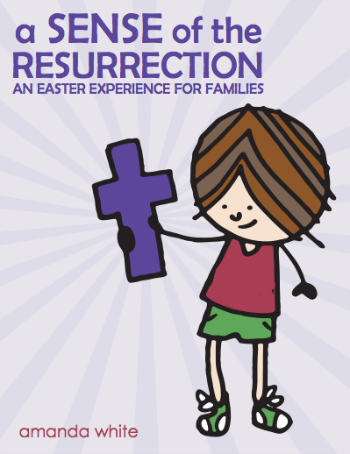 One of those resources I only wish I had when I was a young mom is a wonderful ebook called A Sense of the Resurrection, an Easter Experience for Families. At some point of nearly every day I wish I would have made more special memories with my kiddos and shared the gospel with them more when they were younger. This book will help you do both.
A Sense of the Resurrection has 12 simple activities to be done during the few weeks before Easter to turn your home into a memorial to Jesus' death and resurrection. Using their five senses, your toddlers, preschoolers, and young elementary age children will experience Jesus' anointing, the Last Supper, Peter's denial, the cross, the empty tomb and more. Memories will be made as they begin to understand and believe the story of Jesus' death and resurrection.
I love this book! It uses supplies that can easily be found in your kitchen, the grocery store, or the craft supply store. But even better, it uses scripture to teach an aspect of the true biblical account of the death and resurrection of Jesus, and it gives short conversation starters to help you talk to your kids in a way they can understand. It also gives ideas for how to use these crafts as an ongoing reminder for your littles as the Easter season goes on.
A Sense of the Resurrection is one of those holiday resources that can be used year after year as your children get older and their ability to comprehend Truth grows. The projects may be the same each year, but their understanding of the concepts will deepen as they age.
And want to hear some really good news? For this week only (March 24-28), you can pick up A Sense of the Resurrection for 20% off using the code OHEASTER. This is the perfect time to grab the ebook while it's on sale and get your supplies gathered to begin teaching your sweet little ones all about the amazing grace offered through the cross. Click here to buy it now!
Affiliate links were used in this post. Please see my Disclosure Policy here.